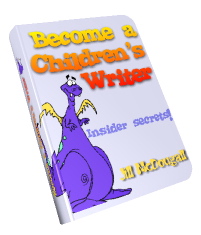 Become A Children's Writer by Jill McDougall
Have you always wanted to write children's books but no clue where to begin? Well get the scoop from an author who has published over 100 children's books. Jill McDougall will take you inside her life and show you the steps she took to get published. Click on the cover for more information.

FROM DONNA MCDINE:
I'm going to a middle school in my area during that week to visit three classes. I'm going to be reading a non-fiction article to a class of 6th graders and a fictional short story to two 5th grade classes. Each reading is going to be geared around the NYS ELA Assessment Guidelines.

For the non-fiction article the children will break out into groups of 4-5 children and will design a graphic orgranizer on poster paper by drawing a jellyfish and listing 5 characteristics of a jellyfish.

For the fictional short story there will be a short discussion and brainstorming on poster paper as to what the students think happened before the main character arrived. After ideas are written up the students need to write a paragraph of the discussion.

Besides the handouts that our group has designed, I have designed and ordered postcards on the two topics to pass out as additional handouts.

THANK YOUs go out to the following writers for helping us spread the news about our ongoing project and our Reading and Writing Appreciation Week:
Virginia Grenier,
publisher of
Stories For Children Magazine
,
for not only mentioning our ongoing project on her website but also for joining us as part of our team to help bring authors and schools closer together.
Elysabeth Eldering,
for joining our team of writer volunteers and also for placing our media release in her blog:
Elysabeth's Emerald City


ATTENTION CHILDREN AND PARENTS!
HERE'S A GREAT MAGAZINE FOR YOUR READING PLEASURE.
Stories for Children Magazine, a free monthly online magazine for kids ages 3-12.
http://storiesforchildrenmagazine.org/default.aspx
Did you know the love of reading is often fostered in childhood by an adult reading a good story?

Stories for Children Magazine was designed to help do just that; by unlocking the child's imagination with fun stories, articles, poems, puzzles and so much more!

Children take pleasure in listening to a story being read and this can go as far as adolescence: at campfires, under the covers, beneath a shady tree, or in front of a roaring fire, there has always been an enchantment about reading a good story. So sit back and let the authors of Stories for Children Magazine take you on a magical journey into The World of Ink.

SCHOOL EVENT IDEAS:
AUTHOR'S TEA: Here's a neat idea for schools to incorporate into their schedules. At the levels where children can write, invite them to write a story and a cover for their book. Teachers can three-hole-punch the papers and tie them up in nice ribbon or even bind them if the school has this capability.
When all the classroom books are finished set an Author's Tea in the afternoon where parents are invited to read and sign these junior muses' books. Some of the older grades can walk around as waiters and waitresses serving 7UP instead of champagne.
The delight in having others reading and signing their books will inspire them to continue writing their little tales as they grow up. This event can take place annually, setting a different month for each grade.
If your school already has an Author's Tea in place, send us a note and let us know how this has helped the students and their reactions to this event. Send all emails to:
musingourchildren@hotmail.com
with AUTHOR'S TEA on the subject heading, your school, grade levels participating in this event, and your comments on this event.
We welcome comments for Author's Tea from all schools around the world so we can announce it in our newsletter.